DAWN LANDES
DAWN LANDES AND FUNMACHINE MUSIC, INC.: Fresh off of a tour of a US with Brian Ferry, and a solo tour of Europe - Dawn's intimate and fascinating new record "Bluebird" has been released on Western Vinyl. Based in Brooklyn, but raised in Louisville, singer-songwriter Dawn Landes has been writing songs for most of her life, and has more than a decade of experience as a professional producer and engineer. After leaving NYU where she studied psychology and literature, Landes began honing her production and engineering skills, working at Stratosphere Sound and at Philip Glass' personal recording studio - before launching Saltlands Studio in Brooklyn. Her new album Bluebird was produced in collaboration with good friend Thomas Bartlett and features contributions from Tony Scherr, Rob Moose, and Norah Jones. Press coverage of Bluebird will understandably present this album as Dawn's answer to her ex-Josh Ritter's "divorce record". However, like any great songwriter, she's abstracting her personal narratives enough to leave them open to interpretation and a larger meaning. In the end, the fact that Bluebird is Landes' way of processing the overwhelming emotions she dealt with after her divorce doesn't matter – there are two sides to every story, and this is hers. Listen to dawn's music and you hear something quite rare. Whether it's in her wordplay, her kaleidoscopic live shows, her soundtrack work for motion pictures, or the studio-wizardry she's picked-up as a recording engineer, it's clear that she's an artist with a unique vision. Her first full-length, "dawn's music" was released in France in 2005, and since then her music has become the stuff of whispers and internet buzz, and her touring schedule has put her on the road with artists such as Feist, Susanne Vega, Josh Ritter, Jose Gonzalez, Le Tigre, Rainer Maria, Andrew Bird, M83, Jane Siberry, Shannon Wright, Martha Wainright, The Swell Season......(the list goes on). Her shows have the guileless and vibrant quality of a work of art in constant creation. Dawn also plays the part of the unassuming pinup girl for the roots renaissance. Dawn's song "I'm In Love With The Night" was featured in the ABC series Six Degrees and the feature film "Winter Passing" contains two of Dawn's songs - plus her song "Toy Piano" has been featured in an episode of Showtime's "Californication". Congratulations to Dawn for her nomination by the Independent Music Association's "Folk Album of the Year". Dawn was also instrumental in starting a retro 1950's female trio called the Bandana Splits as below:
THE BANDANA SPLITS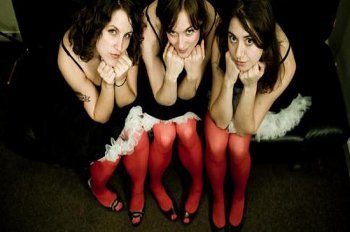 The girls' sound is reminiscent of the great Girl Groups of the 50's and 60's, inspired by The Ronettes, The Caravelles and The Andrews Sisters. Their debut record is packed with 12 original songs and a few covers including an amazing version of "You Don't Have to be a Baby to Cry" made popular in 1963 by The Caravelles and an oh-so-sweet a capella rendition of a song that Lauren's mother learned on her honeymoon! This record is a real treat featuring an eye-opening collection of Christmas treats. Click on the album graphic for more!
MICKY BLUE MUSIC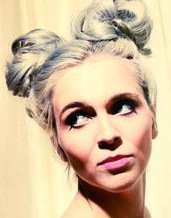 The iFn is pleased to welcome Micky Blue to the client list. She gets a spot near the top of the scroll for being a new client with a killer brand-spanking new EP out in the marketplace! With a "haunted pop" style, Micky Blue has taken the music scene by storm with a sound reminiscent of Tove Lo and Lana Del Rey, although the sheer range and power of her vocals also reminds me at times of Kate Bush. In collaboration with producer Micky Valen and vocal producer Joren Van Der Voort, this highly anticipated EP was mixed by Phil Tan, & Damien Lewis who have worked with notable artists such as Rihanna, Mariah Carey, and Beyonce. Reflecting on the inspiration for her upcoming EP and leading single, Micky Blue explains, "Dark & Stormy is my favorite cocktail, and the whole EP was written drinking these with the producer Mickey Valen. I hit rock bottom in this industry and this song was just how I felt. It's when you're out drinking, having a great time, and then all the sudden the feelings you were trying to escape come through and you can't hide from them anymore. 'You're nobody till you know somebody' is the theme throughout the album. And I think that rings true not just in the music industry but in most industries where you are trying to have a voice." Originally born in London, England, Micky Blue speaks from her soul through music with haunting melodies and heart-wrenching vocal delivery. She draws her inspiration from the story telling torch singers of the Jazz era, and the infectious harmonies of Motown. As an artist who is able to diversify her craft, Micky Blue recently lent her vocals to EDM artist Tritonal. The Micky Blue EP has hit the ground running - and it is being very well received by both devout music fans and critics alike. Please hit her website link above and give a listen. All the tunes are great, but my personal favorite is "Champaign Reign". What a voice! Micky - welcome to the iFn!
DAVID KRAKAUER
DAVID KRAKAUER: Only a select few artists have the ability to convey their message to the back row, to galvanize an audience with a visceral power that connects on a universal level. David Krakauer is such an artist. Widely considered one of the greatest clarinetists on the planet, he has been praised internationally as a key innovator in modern klezmer as well as a major voice in classical music. Known simply as "Krakauer" to his fervent following, he is nothing less than an American original who has embarked on a tremendous journey transforming the music of his Eastern European Jewish heritage into something uniquely contemporary. That journey has lead Krakauer to an astounding diversity of projects and collaborations ranging from solo appearances with orchestras to major festival concerts with his own improvisation-based bands. He has shared the stage with a wide array of artists such as the Klezmatics, Fred Wesley, Itzhak Perlman, Socalled, Eiko and Koma, Leonard Slatkin and Iva Bitova while being sought after by such composers as Danny Elfman, Osvaldo Golijov, David Del Tredici, John Zorn, George Tsontakis, Mohammed Fairouz and Wlad Marhulets to interpret their works. In addition, he has performed with renowned string quartets including the Kronos, Tokyo and the Emerson and as soloist with orchestras such as the Orchestre de Lyon, the Orquestra Sinfonica de Madrid, the Phoenix Symphony, the Brooklyn Philharmonic, the Dresdener Philharmonie and the Detroit Symphony, among many others. His next project, The Big Picture, may be his most adventurous to date. With an all-star crew of fellow musical renegades, Krakauer is re-imagining familiar themes by such renowned film music composers as John Williams, Marvin Hamlisch, Randy Newman, Wojciech Kilar and Vangelis, as well as interpreting melodic gems by the likes of Sidney Bechet, Sergei Prokofiev, Mel Brooks, Ralph Burns, John Kander & Fred Ebb and Jerry Bock that have appeared in popular films. Having already contributed to films by directors Ang Lee and Sally Potter, Krakauer now takes on the challenge of bringing a modernist vision to tunes that resonate on a deeply emotional level with generations of moviegoers.
MARK WOOD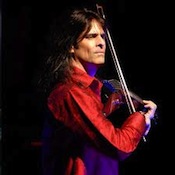 MARK WOOD: In an industry where originality is a highly prized commodity, recording artist, performer, producer, inventor, Emmy-winning composer, and music education advocate Mark Wood is truly an original. He began his career with a full scholarship to the prestigious Juilliard School in New York and had the privilege of studying under Maestro Leonard Bernstein at the Tanglewood Music Program. Dubbed "The Les Paul of the Violin World by PBS, the Juilliard-trained violinist first turned the string establishment on its head in the early 1970's with his invention of the first solid body electric violin. His company Wood Violins is the premier manufacturer of electric violins, violas and cellos worldwide - and Mark holds the patent for the first-ever self-supporting violin. As an electric violinist, Mark Wood is a highly acclaimed international recording artist wo has released six CDs of his music, showcasing his unique approach to the electric violin - playing on his own line of patented instruments; he has toured and recorded with many of the industry's most prominent performers, such as Celine Dion, Lenny Kravitz, Everclear, Victor Wooten and members of Dream Theater, Shinedown, and Anthrax. Mark is an original member of the symphonic rock group Trans-Siberian Orchestra; receiving two platinum and three gold records from his work with them. But his true passion is music education and his program Electrify Your Strings is an intensive rock and roll workshop for music education departments that helps raise money for music education. Mark visits upwards of 60 schools per year and there is a waiting list of schools wanting to participate. The organization has been featured on The Today Show and CBS Evening News. He does the program along with his partner singer/songwriter Laura Kaye - and his talented son Elijah Wood on drums. It's so nice to have Mark, Laura and Elijah on board!
ELIJAH WOOD
ELIJAH WOOD has been surrounded by music and the arts throughout his entire life. His grandfather was a painter, his grandmother a concert pianist, his mother a professional vocalist, and his father a violinist and founding member of Trans-Siberian Orchestra. Hiis first professional opportunity came at age 14 when his father created the groundbreaking music education program "Electrify Your Strings!. Today, he tours with EYS and regularly performs in front of thousands of people all over the world. EYS and Elijah were featured on NBC's The Today Show, CBS Evening News, and many others around the country. Elijah also tours with The Mark Wood Experience performing with symphony orchestras around the world. Most notably: Opole Philharmonic (Poland), Quad City Symphony, and the Houston Symphony. In addition to the work with his father, he also performed with indie electro-rock pop band Exist Elsewhere whose hugely successful 2014 40-show Reach Tour was put together to raise awareness for bullying. Elijah was the house drummer for Season 9 of America's Got Talent broadcast live at Radio City Music Hall. Videos can be found here. After the season ended, he was asked to be the house drummer for AGT Live! at Planet Hollywood Las Vegas. He continues to do events with the contestants. Most recently, Elijah is the drummer for OrKeystra. OrKeystra is a prog rock super group with Dream Theater's Jordan Rudess. The group debuted at the 2015 Winter NAMM show performing five times at the Korg USA booth. Check out a video here. He is also an accomplished studio musician with extensive experience in a variety of recording environments and has produced his own music, which is available on iTunes. Kudos and congrats go out to Elijah for landing the dummer's chair for the upcoming Shania Twain Farewell Tour here.
MARC COPELY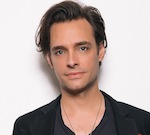 The indieFINANCIALnetwork is pleased to welcome MARC COPELY back into the fold. Marc began his professional career at 19, gigging around Boston as an in-demand guitarist. He was devoted to American roots music and cut his teeth alongside blues legends such as B.B. King, James Cotton, and James Montgomery. He got into the prestigious Berklee School of Music for a year - until his money ran out - but looking back, he knows it all came a little too easily. He would need something to slap him into real action and it came without warning. By most accounts, Marc shouldn't even be alive - not after the car accident that left him with severe head trauma, two fractures in his left arm, a broken left wrist, a dislocated shoulder, bruised ribs and a badly injured back. But Marc is a survivor, who's learned how to chase down his dreams. The impact of the accident made Marc more serious about music and songwriting. He began building his guitar chops back, literally from scratch, and bit by bit he recovered his strength. From his time being signed to RCA and his first two solo albums - to touring as guitarist for Billy Squier and Roseanne Cash - he is on one heck of a roller coaster ride. He has shared the stage and studio in diverse collaborations with artists like Bono and The Edge, Indian percussionist Karsh Kale, Willie Nelson, Joe Walsh, The East Village Opera Company and the Boston Pops Orchestra. Most recently Marc moved to Nashville and has appeared on both ABC's hit show Nashville and the movie Annie, produced by Will Smith and Jay-Z. Marc is also known for his songwriting and has written songs with and for such luminaries as Carole King and Tracy Bonham. Much more here: www.MarcCopely.com
KIRSTEN AGRESTA COPELY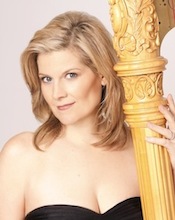 KIRSTEN AGRESTA COPELY has charmed audiences internationally since she began studying the harp at the age of five. By the time she was fourteen, she was a soloist on a tour of the British Isles and has since performed extensively throughout the United States, Europe, South America, Israel, Japan and the South Pacific. Known for her passionate performances and versatility, Kirsten commands a wide range of genres from classical to hip-hop. She has been awarded top national and international prizes and honors – including the Bronze Medalin the USA International Harp Competition. Kirsten debuted as concerto soloist at both Lincoln Center and Carnegie Hall, where she has also performed numerous recitals. Following a feature in People Magazine, she was presented on segments for NBC, CBS and ABC-TV. She later made appearances on MTV, Saturday Night Live, Late Night with David Letterman, The Early Show and The Today Show. Kirsten also performed on the 2014 CMA Country Christmas show with LeAnn Rimes, Idina Menzel, Carrie Underwood, Alan Jackson and host Jennifer Nettles. Kirsten has also performed with Jay-Z, Beyonce, Alica Keys, Kanye West, Adam Levine, John Legend, the Roots, Enya and Norweigian soprano Sissel. She can also be heard on album projects with Lionel Richie, Alison Kraus and Bonobo as well as numerous movie soundtracks. In 2010 Kirsten had the privilege of performing for President and Mrs. Obama at the second official State Dinner. Recent notable performances include performing with Beyonce at Roseland Ballroom for four nights and with Jay-Z at Carnegie Hall. Kirsten studied at The Julliard School and at Indiana University, where she received her Bachelor and Master of Music degrees. Kirsten is principal harpist of the Nashville Opera Orchestra, a member of the World Harp Congress Board of Directors and Vice President of the American Harp Society, Nashville chapter. More here: www.KirstenAgresta.com,
OFFWORLD, INC.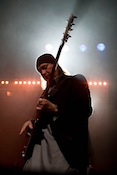 BILL LASWELL: Over the course of some three decades, visionary bassist-producer Bill Laswell has been one of the most prolific and restlessly creative forces in contemporary music. A sound conceptualist who has always been a step ahead of the curve, he has put his inimitable stamp on nearly 3,000 recording projects by such artists as Mick Jagger, Yoko Ono, Iggy Pop, Laurie Anderson, Brian Eno, Bootsy Collins, Nine Inch Nails, Motorhead, Peter Gabriel, Blur, The Ramones, George Clinton, Pharaoh Sanders, The Dalai Lama, Matisyahu, Angelique Kidjo, DJ Krush, RAMM:ΣLL:ZΣΣ, Sting, The Last Poets, Afrika Bambaataa, Julian Schnabel, Whitney Houston, Manu Dibango, Fela Kuti and most notably Herbie Hancock, who collaborated with Laswell for the pivotal 1983 smash-hit single "Rock-It" which introduced scratching to the mainstream, inspired a generation of turntablists and gave the great jazz pianist instant street credibility among the burgeoning hip-hop cognoscenti. Bill Laswell has helped in generating several innovative recording labels such as Celluloid, Subharmonic, Black Arc, and Innerhythmic. Along with Chris Blackwell, founder of Island Records (Bob Marley and U2), he established the AXIOM label in 1989. M.O.D. Technologies, his most recent imprint - is releasing projects by Method Of Defiance, Lee "Scratch" Perry, PRAXIS, Garrison Hawk with Sly & Robbie, Bernie Worrell, The Process (with Red Hot Chili Peppers' drummer Chad Smith and pianist Jon Baptiste) and progressive/futuristic music from Ethiopia (CDs/DVDs). As a player, Laswell's bass lines resound with rare authority on groundbreaking projects by Tabla Beat Science (with Zakir Hussain and Ustad Sultan Khan), his avant-funk band Material, the apocalyptic assault of Last Exit (with Sonny Sharrock), his progressive dub effected Method of Defiance and the throbbingly intense power trios, Massacre (with Fred Frith and Charles Hayward), Painkiller (with John Zorn and Mick Harris), Praxis (with Buckethead and Brain), Blixt (with Raoul Bjorkenheim and Morgan Agren) and the latest (2014) Bladerunner (with John Zorn and Slayer drummer Dave Lombardo). The iFn is proud to have Bill and Offworld, Inc. on board. For more go here: www.billlaswell.net or here: Silent Watcher.
INVASION GROUP, LTD.
Some highlights of the Invasion Group, Ltd. Roster appear below: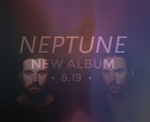 TALL HEIGHTS: Singer/guitarist Tim Harrington and singer/cellist Paul Wright know where they've been, and where they want to go. Neptune, due August 19, is Tall Heights' first album for Sony Masterworks, and the latest step in the ongoing evolution of their sound and style. Harrington and Wright formed Tall Heights in 2010, keeping their songs stripped down to their essential elements. As those lessons took root, the pair essentially gave themselves permission to push their musical boundaries outward over three separate recording sessions at Color Study studio in tiny Goshen, Vermont, that yielded songs for their 2015 EP Holding On, Holding Out, and for Neptune. Not only did Harrington and Wright expand their sonic palette throughout the process, they also altered their approach to writing. The musicians tend to develop ideas separately, before one brings a new song to the other for further development. It's a reflection of their early days sharing musical ideas, when Wright was living overseas and Harrington was finishing up college. They have been friends since they were kids growing up in the central Massachusetts town of Sturbridge. They changed the formula on Neptune. Four songs on the album — "River Wider," "Infrared," "Cross My Mind" and "Growing" — are the result of one musician looping a simple instrumental part and letting the other write lyrics for it. With the last recording session looming, the duo worked faster than usual on those songs, particularly the somber, atmospheric "Cross My Mind." Their ever-closer collaboration, and the time they gave themselves in the studio to develop it, is indicative of the band's developing approach to making music. "I can hear the evolution happening," Harrington says. "I feel like we're walking across a bridge from one place to another, and maybe I'll always feel that way, but I'm really happy with how we're moving."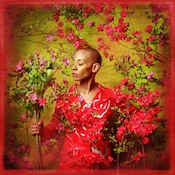 GAIL ANN DORSEY: Gail Ann Dorsey is a top session bassist, songwriter and vocalist with an eclectic, impressive career spanning two decades. She has performed and recorded with artists such as The Gang Of Four, Louise Goffin, Sophie B. Hawkins, Tears For Fears, The Indigo Girls, Jane Siberry, Jeffrey Gaines, Dar Williams, Joan Osborne, The B-52's, and the late Michael Hutchence of INXS. In 2007, she finished a stint on the road with Seal, and has been touring the U.S. with Gwen Stefani and Lenny Kravitz. However, Gail is probably best known for her contribution to the David Bowie band. She was recruited by David for his 1995 "Outside" Tour with Nine Inch Nails; since then, Dorsey has affixed her deep pocket, melodic bass and distinguished vocals to the 1997 "Earthling" CD, the 2002 "Heathen" CD, and the most recent release "Reality." She recorded 'Planet of Dreams,' a duet with Bowie on the 1997 EMI UK benefit CD release, "Long Live Tibet." as well as several other live recordings, world tours, videos, and countless major media events. Gail, an established solo artist in her own right, has been working hard on the follow-up to her latest solo outing I Used to Be… Lots more available at: www.gailanndorsey.com and check out Gail currently touring with Lenny Kraviitz.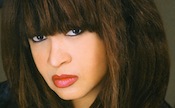 RONNIE SPECTOR was born and raised in upper Manhattan. She formed the Ronettes while in her teens and released her first records in 1961,The Ronettes were also professional singers and dancers at New York's Peppermint Lounge. There they were discovered by legendary disc jockey "Murray the K", who promptly hired them as dancers for his Brooklyn Fox Theater rock and roll revues. Beginning in 1963, Ronnie Spector - as lead singer of the ultimate girl group, The Ronettes - recorded a long string of classic pop hits: powerful, poignant teen anthems like the Grammy Award-winning "Walking in the Rain," "Do I Love You," "Baby I Love You," "The Best Part of Breaking Up," "I Can Hear Music," and the international Number One smash "Be My Baby." These records are among the best-loved and most-emulated recordings in the history of rock and roll. As the Number One pop group in England, Ronnie Spector and the Ronettes headlined over acts like the Rolling Stones and Yardbirds. The Beatles personally requested that the Ronettes join their final U.S. tour in August 1966. Ronnie's rock and roll renditions of "Frosty the Snowman", "Sleigh Ride", "I Saw Mommy Kissing Santa Claus" and "Rockin' Around the Christmas Tree" are holiday classics and an integral part of every Christmas season. In fact her version of "Sleigh Ride" (#4) and "Frosty the Snowman" (#16) are on ASCAP's top 20 most played Christmas songs of the last five years. She is also the only artist with two songs on the list. In 1986, Ronnie's duet with Eddie Money - "Take Me Home Tonight" - reached No. 4 on the Billboard Hot 100 and hung on the chart for 23 weeks. In June 2000, after a fifteen-year legal battle, Ronnie Spector won a landmark decision in the New York State courts. The ruling eased the way for veteran artists of the Fifties and Sixties to collect past-due royalties on their old recordings. Be sure to catch Ronnie's new BEEHIVE show. More here: www.ronniespector.com.
The piano-violin duo, GRACIE AND RACHEL crafts intricate tunes combining classical string elements with haunting, fierce vocals. It is ivory satin lined with teeth, finding beauty in stark simplicity and pausing to breathe a hint of the abstract into the highly emotive, evolved body they create. The Brooklyn-based, California-raised duo of Gracie Coates (lead vocals/piano) and Rachel Ruggles (violin/vocals) has graced stages nationwide. Their forthcoming debut album "Go" is a penetrating record of a lifelong friendship - which flows freely between virtuosic violin textures to sylphlike melodies highlighting Coates' seasoned songwriting. The result: a heartfelt glimpse into two artists' intertwined lives. From the pit of despair to the summit of success, Gracie and Rachel are always headed somewhere new.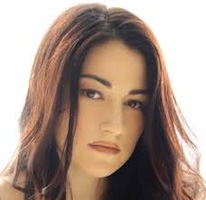 JENNIFER KNAPP you may have passed along the way. Growing up in a tiny town in Kansas, the trips across the US and Europe were exciting. This led to a jaunt to Australia, where she decided to stay. Walking away from her career wasn't easy, as Jennifer was riding high on the wave of success. Having cultivated an audience within the Christian music spectrum, Jennifer's first 3 albums were all critical and commercial successes. She won her first Dove Award in 1999 for Best New Artist, scored 2 Grammy nods and another Dove nomination in 2003. People magazine touted Jennifer as an "uncommonly literate songwriter," but just as she was at the top of her game she…let go. "I had to go through a mourning process of walking away and convincing myself that it didn't matter if I played music anymore. There are sad parts of working in the industry that made me feel disconnected, but I realized I was just afraid and was hiding. To say that Jennifer Knapp has come full circle would be a fair assessment. The re-launch is very special, a reminder of why Jennifer came back to her musical roots. "There is a strong sense of community that has been in the back of my mind throughout this whole process. I want my core audience to find something familiar, but refreshed. At the same time, I am so happy to throw off any cloak that has been put upon me that would make any music lover hesitate to listen to my music. I am so excited to bring all different types of people to my party. Sometimes, you have to let go of everything to be able to come back." Welcome back, Jennifer!
JAI UTTAL is a pioneer in the world music community. His eclectic east meets-west sound has put his music at the forefront of the world fusion movement. From the hillbilly music of the Appalachian Mountains to the passionate strains of Bengali street singers, from the haunting rhythms and melodies of ancient India to contemporary electric rock sounds, Jai's music distills the pure essence of many diverse musical forms. Eventually this experimentation led him to the work of India's National Living Treasure, Ali Akbar Khan. At the age of 19, Jai moved to California to become a student of Khansahib for traditional voice training and to learn the sarod, a 25-stringed Indian instrument. Later he traveled to India where he was deeply inspired by the Bauls, the wandering street musicians of Bengal. Jai settled among them, communicating only through music, which ultimately helped establish his unique style. During these early visits to India, Jai also met his Guru, Neem Karoli Baba, and spent time with many great beings of both the Hindu and Buddhist traditions. He became deeply absorbed in the practice of kirtan, the ancient yoga of chanting, or singing to God. This form of prayer became the core of his musical and spiritual life. In the last few years, chanting has brought him to Israel, Fiji, Brazil, Germany, Switzerland and India. Jai is continuing to tour regularly and bring his unique message to the world. Check out www.jaiuttal.com.
GRAHAM COLTON once had a major label career, numerous TV appearances and the limiting musical peg of "singer-songwriter," and now Colton has gone through a reinvention. And while that early career led to success — major label albums, performances on The Tonight Show and The Late Show, videos on TRL, tours with everyone from John Mayer to Dave Matthews Band to Maroon Five - there were tradeoffs. According to Colton: "I didn't have a starting point for this," he admits. "But I knew I had to grow and do things differently than I had done before." Eschewing labels, he turned to Kickstarter to connect directly with fans. This was going to be a record where I wanted the freedom to do something new, without any parameters." "The point was to make me the most uncomfortable," he says, laughing. "I had to unlearn everything from 12 years. It was amazing and humbling at the same time." Musically, Lonely Ones runs a wide gamut, veering from synths to guitars to strings, full of psychedelic flourishes and big production. But at its heart: a real sense of melody and plenty of choruses to wrap your head around. Think of it as catchy, thoughtful headphone music.
My name is SETH GLIER and I'm here to explain how disruptive behavior, insubordination, and the neurotic desire to be at the center of attention isn't always the worst thing in the world. I attended Berklee College of music for a year and soon I was performing anywhere I could. I moved back in with my parents and made a record in their basement for about $5,000 with used equipment I purchased from eBay. I bought a yoga teacher's '89 Toyota Camry with 250,000 miles on it and drove around the country for 3 years with my friend Ryan playing every open mic, dive bar, bar mitzvah, club, and concert experience imaginable. I booked 300 plus shows a year from the passenger seat of my car. There was no team of agents or managers, and nobody telling me what I needed to do or how to do it. I had no plan B, just the maniacally focused voice of my six year old self that kept saying "don't you stop now." It has been, and continues to be, the journey of a lifetime. I've had amazing mentors along the way, been around the world, put out four albums on a great record label, flirted with Katy Perry, walked the red carpet at the Grammys, and gotten to wake up and do what I love every day. Connection is why I do this. When a song connects with someone it reminds us that we are not alone in the world. There's a beginning, middle, and an end. It's good work. It's noble work.
INVASION RECORDS
THE LATE, GREAT, BILL HICKS: The iFn has been working with the "Invasion" group of companies since early 1989, and our clients, Invasion Records, signed Bill to his first record deal in July of 1989. Invasion Records subsequently released what many critics still believe are his finest works: 1990's Dangerous and 1992's Relentless. At the time, Invasion worked very hard in the U.S. and via their London office to establish Bill in the U.K. His comedic rants were arguably ahead of their time, and for various reasons, the Brits seemed to "get" Bill, even before many of the U.S. audiences found themselves jumping on the Hicks bandwagon. Today, Bill is perhaps universally recognized as one of the greatest comedic geniuses of all time. Sadly, he died in 1994 at the young age of 32 fighting pancreatic cancer, but his legacy and the documentation of his incredible rants and raves live on. Bill was above all a truth seeker, and fought hard to uncover the truth in every aspect of society and his own life; both on and off-stage. Bill possessed the remarkable ability to force you to look at life and events from a totally different perspective, and somehow managed to find a way to make it funny. Bands who have made dedications to Bill include Radiohead, Tool and Rage Against the Machine, to name a few. There are volumes about Bill Hicks posted all over the web. Bill deserves a few minutes of your time, especially if you have even a passing interest in stand-up comedy, or perhaps more importantly, you are curious about a brtilliant man's 'relentless' quest for the truth. NEWS FLASH: Russell Crowe has purchased the rights to the Bill Hicks life story and the script is underway. Will Russell Crowe be playing Hicks? Stay tuned for details.
UNITED FOR OPPORTUNITY
Formed in 2005 by veteran artist managers Peter Casperson and Steven Saporta, United For Opportunity (UFO) is an organization of experienced, independent-thinking music industry pros that have come together to create a new kind of entertainment company - one with a focus on sustainability and customizable services. By anticipating and meeting the demands of the rapidly changing music business, UFO provides its clients with the strategic vision and the tools they need to create, maintain, and grow music careers. Harvesting our years of experience operating in the independent music sector as artist managers, lawyers, publishers, booking agents and producers, we have formed UFO to support independent artists and labels that desire to maintain control of their business. Every plan is tailored to the artist and developed with the artist involved. UFO is a one-stop shop for an entire team. From management and distribution to booking and promotion, we offer a group of specialists under one roof who are able to work together on your campaign or be hired à la carte. Bringing in well respected and powerful industry partners like Fontana, eOne, ADA Global, HaloEffect, Hoplite, Lommen Abdo, Invasion Group, Sugaroo!, BMG Chrysalis, and Modern Works Music Publishing, an alliance has been created that gains artists access to some of the best people in the industry and maximizes opportunities for exposure, efficiency and cost effectiveness. Some of the artists on the label or distributed by UFO are Paula Cole, Lori Carson, Zach Deputy, Sara Lee, James Blood Ulmer, John McLaughlin, Grace and the Victory RIders, Jennifer Knapp, Graham Colton, Tall Heights, Limblifter, Praxis, Zillaatron, Pharoh Sanders, Dizzy Gillespie, Modern Jazz Quartet, Seth Glier and Annie Girl and the Flight.
INNERHYTHMIC
INNERHYTHMIC: The Innerhythmic imprint - founded by musician and producer Bill Laswell as a critical proving ground for radically new, and in fact, revolutionary sound - was first conceived as an alternative outlet for musicians from a variety of different backgrounds who are dedicated to exploring the recombinant possibilities of music. Let it be known that a spectre is haunting what has chosen to identify itself as the music industry. It is a spectre recognized by many names, but which, as dictated by the insatiable need for immediate understanding in today's hyper-accelerated and connected world, can be called "radical innovation" for now. With a scope of influence that welcomes the traditional and "trance" rhythms of far-flung cultures as openly as the hip-hop, dub, jungle, jazz, funk and electronic cyber-styles emanating from the DJ underground and beyond, the label stands out as an active realization of the "collage system" - a system where entirely new forms can emerge almost at will from fusions of the familiar. Consider this "an ecstatic journey into known and unknown worlds of sound." In an era of electronic and digital technologies, and in an age where the boundaries between human and machine have become increasingly blurred, whatever distinction that remains between real music and sound effects is collapsed and mutated into a transcultural, international formation. Electronics transform listeners into electribes, and yet the "tribalness" of traditional sonic technologies is understood to be already futuristic, with or without the aid of circuitry. With this vision, Innerhythmic delivers an almost unimaginable range of sonic collaborations, gathering musicians of truly masterful ability and opening a new vista on today's electro-acoustic frontier. Put simply, this is a past that arrives from the future to scramble the present; drum-and-bass, dub, mutant hip-hop, harmolodic fusion, new jazz, world and otherworld musics all connect to expand the potential of the experience. Artists on Innerhythmic include: Bill Laswell, The Last Poets, Shine featuring Buckethead, Bill Laswell and Shin Terai, Buddy Miles Express, Zillatron, Charged featuring Eraldo Bernocchi, Toshinori Kondo and Bill Laswell, Revelator featuring Raol Bjorkenheim and Nicky Skopelitis, Gonervill, Praxis featuring Buckethead, Brain and Bill Laswell and James Blood Ulmer.
M.O.D. TECHNOLOGIES
MOD TECHNOLOGIES: A musical, sonic, aesthetic, mind and body experience, at once structured, spontaneous, precise, random, brash, beautiful and above all unforgiveable. In the present age, which prefers the sign to the signified, the copy to the original, representation to reality, the appearance to the essence, only truth is sacred, not illusion. Change is the will to change. The business of music is more often than not a world of small minds and little soul, where success is dicated by the ability to locate trends and accordingly manufacture the most lucrative product available. In this context, the lowest forms of capitalism ermerge in insidious ways: the isolation and ghettoization of easily controlled genres and the encouragement of planned obsolescence as ways to keep up the flow of product become the techniques for success, vision, integrity, significance and expression. The driving forces behind the creative act are sacrificed as mere obstructions to the working of business. Bill Laswell has made a life of fighting these forms of decadence and stasis in the name of creativity, change and magic. Consistently challenging beliefs in various networks and levels of the status quo, delighting and angering fans and critics alike. His work is based first and foremost in darling and original ideas wht consistently transcend existing boundaries of genre, geography, culture and context.
EUSONIA RECORDS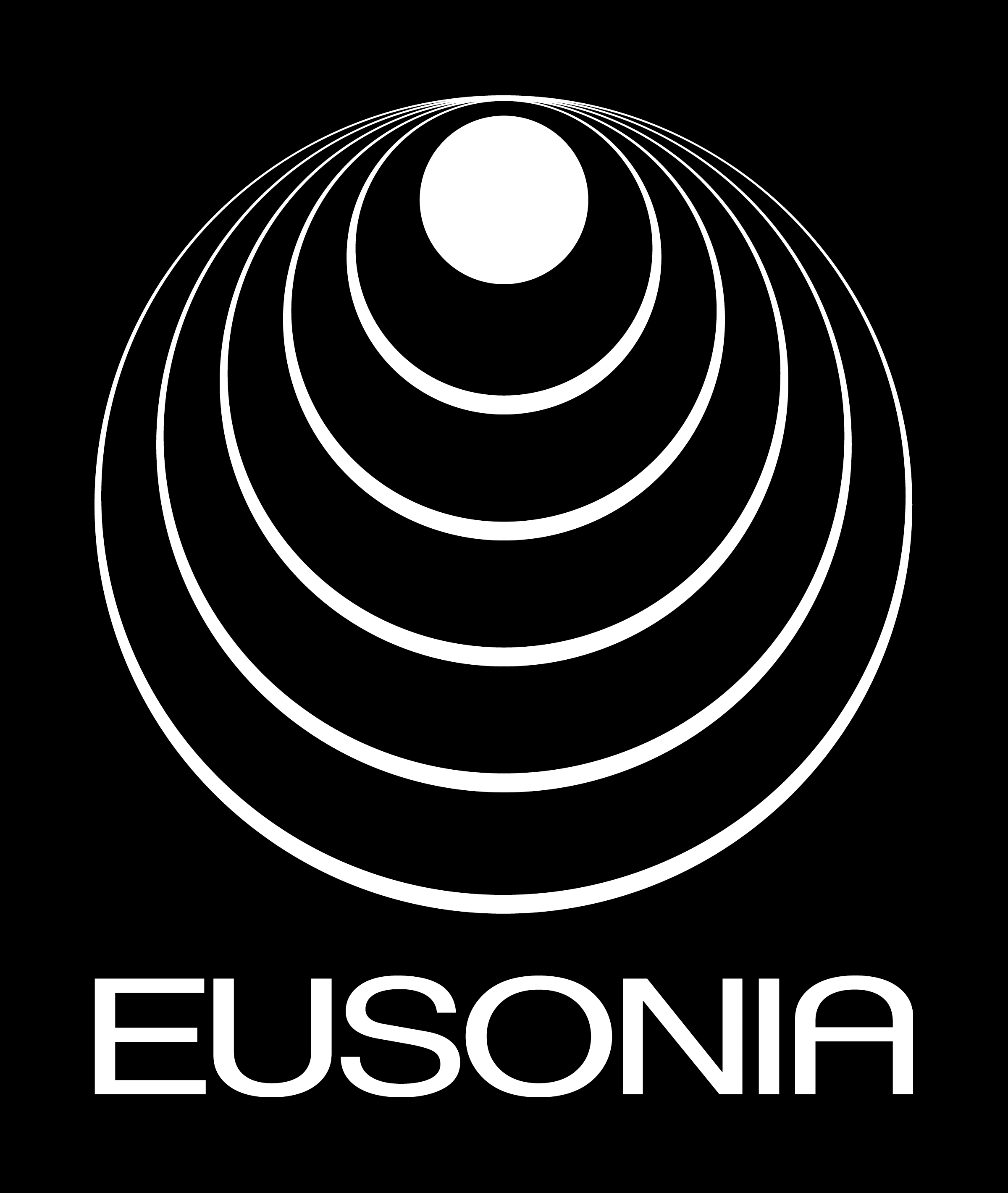 EUSONIA RECORDS, LLC: There are only two kinds of music - good music and the other kind. This concept, first made famous by Duke Ellington, then later by Jimi Hendrix and countless others, is the inspiration behind Eusonia Records. Amidst a crumbling monolith formerly known as the record business, and an infinite landscape of disposable, indistinguishable artists and albums, Eusonia is dedicated to creating and releasing timeless, artistic, trend-setting music, regardless of restrictive genres, categories and radio formats. Borrowing liberally from Greek and Latin roots, the word Eusonia means "home of good music". Founded in 2007 by Grammy Award-winning Producer/Writer/Engineer Scott Jacoby, Eusonia is a pioneering independent label that creates records that artists want to make and that people want to hear – a simple idea, yet so rarely executed. At Eusonia, art comes before commerce, innovation before mimicry, integrity before celebrity, music before everything.* At Eusonia, music comes before everything. On Earth, it doesn't. Eusonia Records donates a portion of its profits to various international and environmental charities. Please visit www.eusonia.org to contribute or to learn more about how our music gives back. Congratulations to all involved for the Grammy Nomination for debut artist "Maiysha."
INNERTAINMENT
INNERTAINMENT: is a unique specialty indie label, featuring concept projects which are contained in fully illustrated, hardcover, limited-edition musical gift books. The initial project, Beauty Gone Wild was conceived and fulfilled by artist Leah Waybright. Beauty Gone Wild introduces an intriguing concept, by exploring musical interpretations of the myth, magic and folklore of flowers. From ancient times, flowers have been used for medicine, perfume, decoration and even food. Leah is an enviromental activist and has recently earned her "Master Gardener" designation from Cornell University. She is also a member of the prestigious American Institute of Floral Designers and has been instructor of Floral Design at the New York Botanical Garden, for over 25 years. SHe is also the curator of the Wildflower Island at Teatown Lake Reservation- a magical island that features rare and endangered native plants and flowers. In the research phase of Beauty Gone WIld, the romantic floral imagery unfolded before her eyes and she felt inspired to compose lush, beautiful music, focusing on the dramatic content revealed in the stories. Some flowers may appear delicate and beautiful but ooze poisonous, highly toxic nectar. Still others may bear nettles or thorns as a painful reminder of their tragic origins. Leah's compositions show off her classical piano training and background. When it came time to record the tunes for "Beauty Gone Wild", Leah recruited bassist and producer Rick Kennell, best known for his work with Happy the Man. Rick brought in ex-Happy the Man buddies guitarist Stan Whitaker and drummer Ron Riddle. On wind controller, Gary Blu was the man for the job. Gary has worked extensively with Donald Fagen and Steely Dan. Rounding out the line-up is Gerardo Velez on timbales and congas. The record was mixed at Bear Tracks in Suffern, New York, by Doug Oberkircher. Doug is best known for his work with Spyro Gyra and Dream Theater. For much more on Beauty Gone Wild you can visit Leah's website at: www.leahwaybright.com
© indieFINANCIALnetwork™ All RIghts Reserved